Abstract Submission
Abstract submissions are welcome for ARMA 2021. The guidelines below cover everything you need to know - please ensure you read carefully before clicking a button to submit.


Abstract Timeline
Abstract submission opens
Abstract submission closes
15 August 2021 (Midnight)
Overview
Anyone can submit an abstract; member or non-member. Think of your abstract like a sales tool or elevator pitch. It's a brief summary of the content you will produce and an opportunity to demonstrate what you can bring to conference. It provides information for delegates to help them choose which content to view. Importantly, it's also the way the review panel decide which content is included in the programme and which isn't. The abstract submission process for ARMA 2021 is through an online portal. You can submit an abstract for a Poster & Poster Presentation or On-Demand Webinar. Or do both!


Submission Types
Poster & Poster Presentation
If selected, you'll produce a poster and a short accompanying video presentation. Your poster and video will be on display in the Virtual Poster Hall (see image below) for delegates to view at any time throughout conference and for up to 30 days afterwards.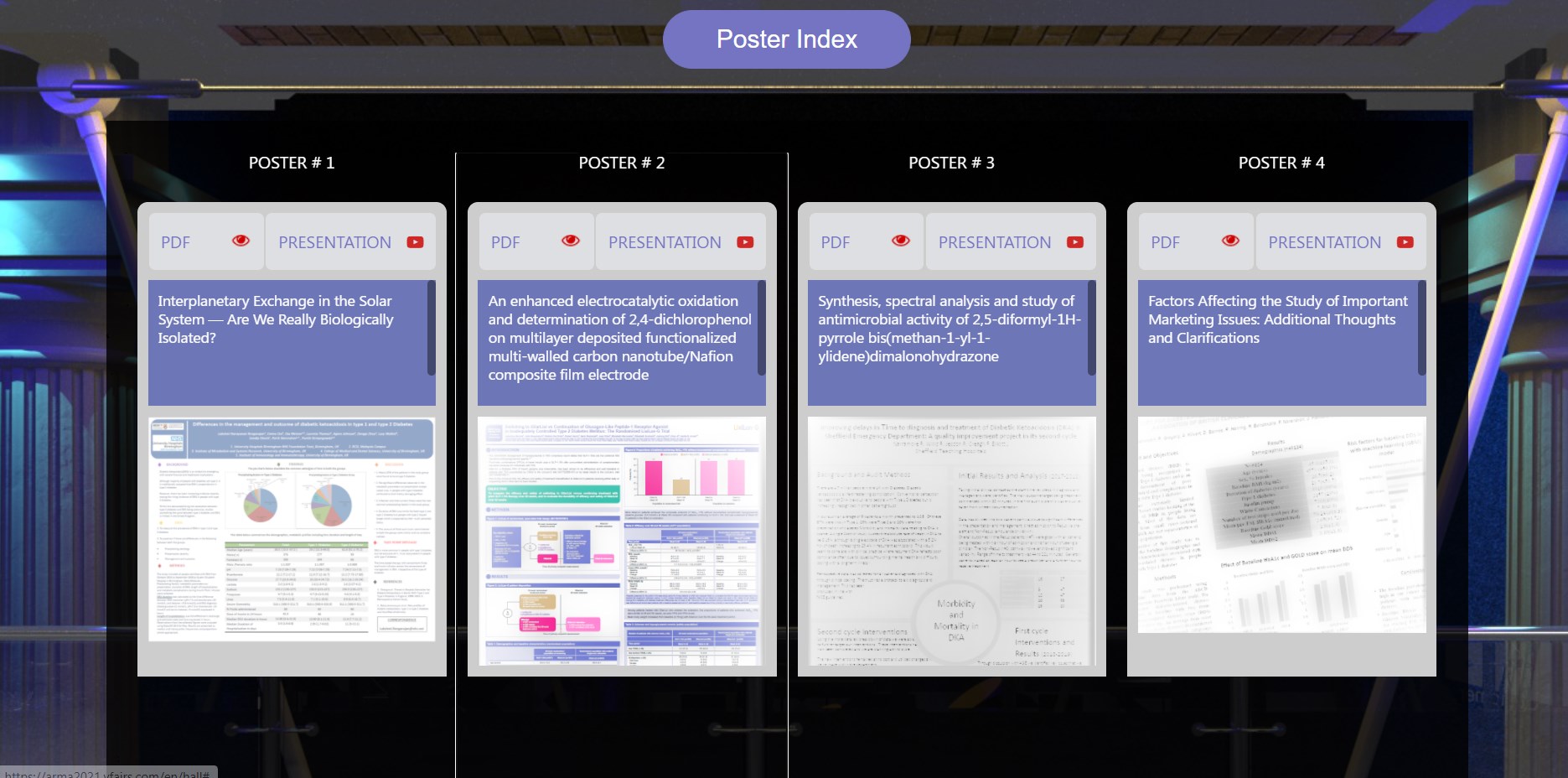 On-Demand Webinar
If selected, you'll produce a pre-recorded video webinar. ARMA 2021 will feature a library of on-demand content available to view at any time throughout conference and for up to 30 days afterwards. This is your chance to deliver your very own conference session – the only difference being that it's available to delegates on-demand. There are no rules, the only requirement is that content falls within one of the 8 conference themes below. You can deliver your session however you wish. Perhaps you'll present slides lecture-style, maybe it will be a round-table or panel discussion. It could even be a fire-side chat with a leading expert. Or it could be something else entirely – it's up to you!
What You'll Need to Do if Your Abstract is Selected
Poster & Poster Presentation
Produce 1 page poster, portrait orientation, PDF file format (click here to view a sample poster from ARMA 2019)
Record your video presentation, max 5 minutes, save in MP4 file format (before you start, please read our recording guidelines document below)
On-Demand Webinar
Record your webinar, must be between 10-30 minutes max, save in MP4 file format (before starting, please read our recording guidelines below)
Don't Forget!
Send your files by 15 August 2021 to conference@arma.ac.uk. We suggest using large file transfer services such as WeTransfer or Dropbox. Simply visit https://wetransfer.com, attach your files and hit send
Complete your conference registration by the same deadline (15 August 2021)
How to Record your Video
If your abstract is selected, you will need to produce video content. This may sound a little daunting but worry not, we have prepared a simple guide to help you! Please download the document by clicking the button below.
Themes
The conference topic is equity, diversity and inclusion. Please consider EDI when preparing your submission. During the submission process you'll be asked to submit your abstract under one of the following themes:
Project & portfolio management
Culture, environment & people
Impact & public engagement
Submission Process
We're using Oxford Abstracts (abstract management system) to manage the abstract submission and review process. As a first-time user, you must register and create an account with Oxford Abstracts before being directed to the submission portal.
There are two separate portals for abstract submission, one for Poster & Poster Presentation and another for On-Demand Webinar. Both portals follow a simple step by step process and depending on which you've chosen, you'll be asked to input information under the following sections:
Title of abstract (word limit: 15). Your title should make clear what your session will be about but you can be as creative as you wish!
Theme. Select one of the 8 themes to submit your abstract under.
Name, organisation, and job title of your main presenter. This person will act as the main contact for this abstract and will be listed as first presenter.
Name, organisation, and job title of co-presenter(s).
Presenter Bio (word limit: 100). Provide some details about you: your work experience, current role and hobbies.
Abstract (word limit: 200). Enter your abstract. Explain what you're trying to achieve with your content, any background research or practice it's based on and what benefits the delegates will get from viewing.
** Session content level. Is the content an overview/ introduction for those new to the topic? Is it for technical specialists or those with a specific interest in the topic? Or is it at strategic level for those able to initiate change at an institutional level?
Have you presented at a conference before? Let us know is you've previously presented at ARMA conference and/ or another conference.
**Not applicable for Poster & Poster Presentation


Terms and Conditions
The abstract submitted is in English
A presenter can submit multiple abstracts for each submission type, providing each submission is different. Identical abstracts must not be submitted for both submission types
The conference theme is equity, diversity and inclusion. Presenters should endeavour to make their content inclusive of all (guidance will be provided at a later date)
The review panel reserves the right to ask presenters to change submission type to create a more cohesive conference programme
In submission, grants ARMA the right to publish the text of the abstract along with the names and affiliations, posters, PowerPoint presentations, videos and/or additional documents as requested on the conference platform
Pre-recorded videos may be published online in the ARMA domain after conference
It is the responsibility of the main presenter to submit the abstract. They are the main contact with responsibility to communicate with co-authors and ensure they are all registered in order to be included in the programme
In publishing any conference related content, ARMA shall acknowledge and attribute the co-authors of such content
All accepted presenters must register to attend conference as a paying delegate by 15 August 2021. Accepted presenters not registered by this date may be removed from the programme.