Programme
Historically, ARMA annual conference has been a two-day event but, in another first for this year, ARMA 2021 will take place over three days. That means an additional day of content for you to dip in and out of as required!
The virtual auditorium features plenary and parallel tracks in which delegates will hear from a mix of keynote, invited speaker and abstract sessions, hearing the latest views and sharing best practice. You'll be able to review the programme and add the sessions you want to your own personal schedule, you can even add them to your own calendar!
A library of on-demand content can be viewed at any time throughout conference and for up to 30 days after. All programmed sessions over the three days become on-demand content and, following a call for abstracts, the on-demand library includes a programme of webinars covering the wide spectrum of research management and administration, and also a series of 'SIG Sessions' reflecting our Special Interest Groups.


Speakers announced!
Angela Saini, Award-Winning Science Journalist, Broadcaster and Author of Superior: The Return of Race Science, Inferior: How Science Got Women Wrong and Geek Nation
Dr Karen Salt, Deputy Director, R&D Culture and Environment, UK Research and Innovation
Christina Miller, Director, UK Research Office (UKRO)
Vanessa Cuthill, Director of Research, British Academy
Annette Hay, Senior Research Delivery Support Partner, Coventry University
Sapna Marwaha, Senior Legal Counsel, LifeArc and Deputy Chair-elect, ARMA
Jennifer Stergiou, Director, Research & Innovation Service, Northumbria University and Chair, ARMA
Posters
Following a call for abstracts, posters hang in the virtual poster hall (see sample image below) where presenters speak to their posters in a five-minute video that can be played by the viewer at any time – so no more missing lunch or coffee breaks! Viewers can also leave comments for the presenter. The poster hall is open throughout conference and remains open to re-visit for up to 30 days after conference.
Best poster gets the bragging rights, a £150 amazon voucher and a free delegate place at our next virtual conference!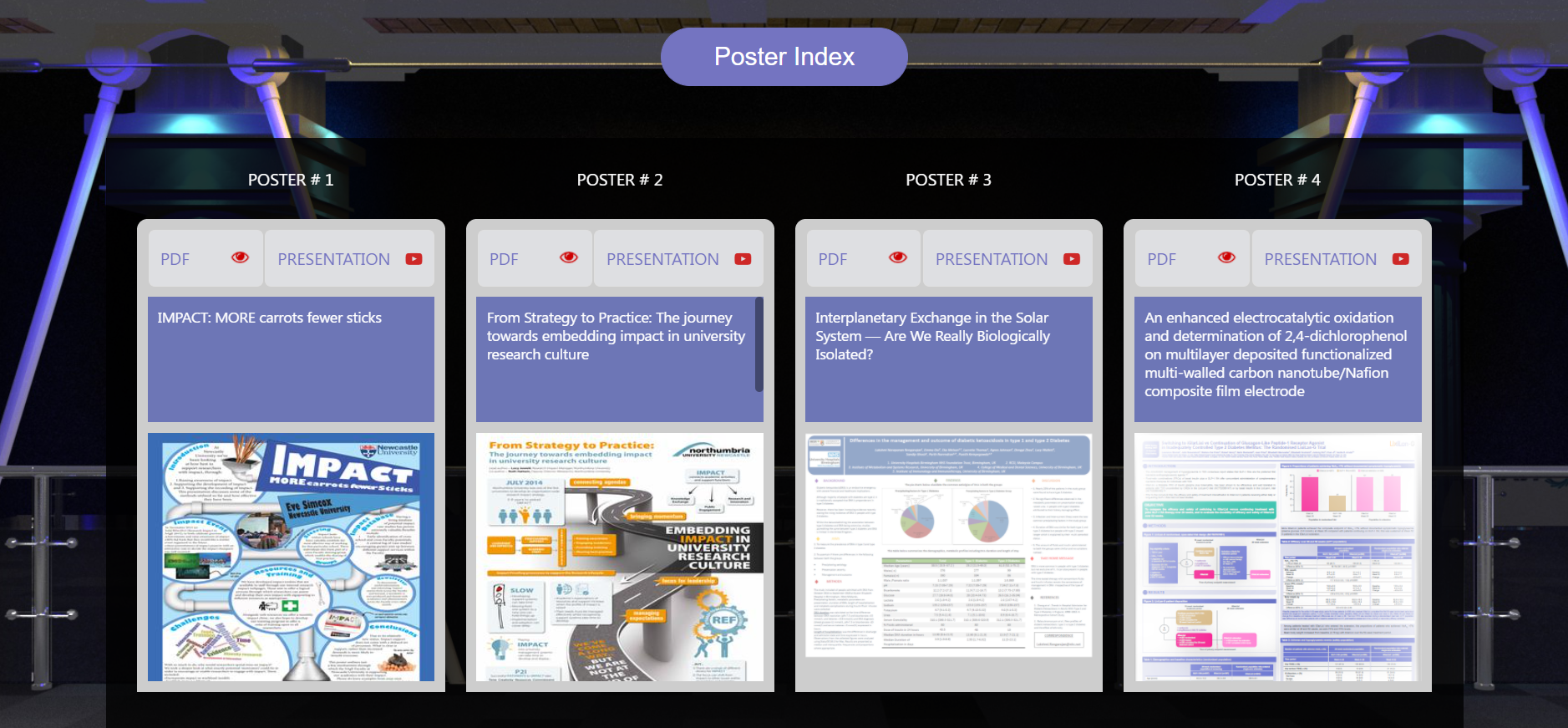 Exhibition
Open for the duration of conference, the virtual exhibition hall is where where our exhibitors showcase the latest products and services available to the sector. Delegates enter the hall to an aerial view before zooming in to engage with a specific company/ stand. You can engage with exhibitors in real-time conversation using text, audio and video chat. Items can even be popped into a virtual delegate bag to take away!
The following organisations are exhibiting at ARMA 2021. If your organisation is interested in exhibiting, please contact us.
Partners
ARMA 2021 wouldn't be possible without the support of our various partners, which is why ARMA puts engagement at the very heart of what we feel makes a successful virtual event. We're grateful for the support of our partners and we ask you to show them your support during conference.
Principal Partner
Associate Partners